BioMorph 2015 // Studio Facilities
BioMorph 2015 // Installation Experiments
BioMorph 2015 // Installation Experiments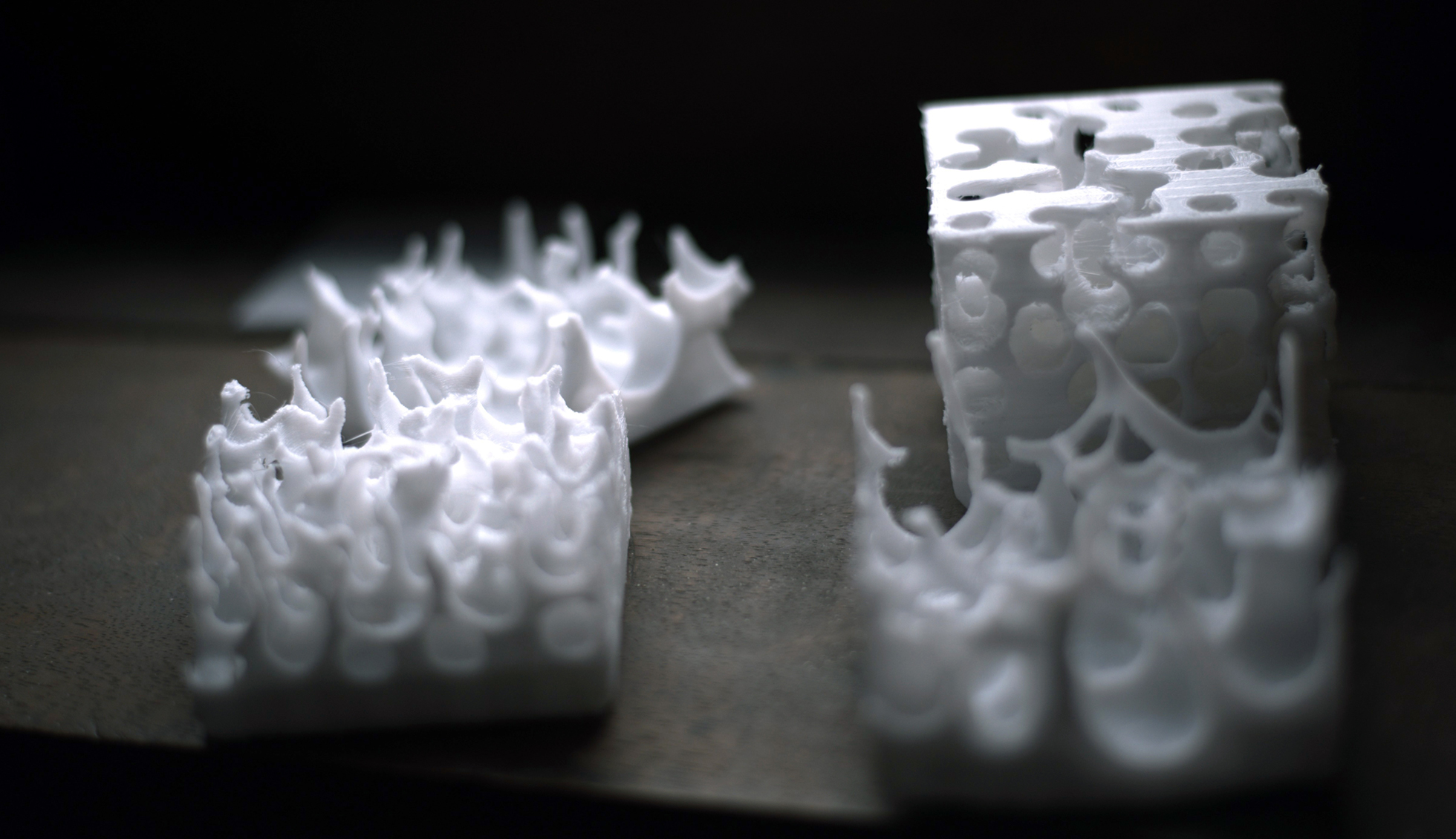 BioMorph 2015 BioMorph 2015 // 3d printed test
BioMorph 2016 // Joint mockup
BioMorph 2016 // Students experiment
BioMorph 2016 // Student experiment
BioMorph 2016 // Installation
BioMorph 2016 // Exhibition
Previous Iterations...
AA Biomorph Visiting School workshop is being focused on material efficiency in nature and how this can be the inspiration for innovative structural solutions. This will be a digital craft workshop that considers the forming of structures inspired by biology and realised through a feedback to computational platforms. BioMorph is developed in a three year cycle, each year the workshop will keep this theme as a core principle but change the material which is explored.
BioMorph 2015 was the first workshop of the cycle and was developed in Mumbai during July 2015.This was conducted in collaboration with Architectural Association, School of Architecture, London and Studio - X (Mumbai) (Graduate School of Architecture, Planning and Preservation of Columbia University, USA). The focus of the workshop was to teach world class techniques and methods in developing a material system inspired by biomimetic strategies. The basis of this was to develop a broader local knowledge base on concrete casting techniques using innovative technologies. Six units were formed and each tasked with researching the structural logic of a organism in nature. This logic was then translated into architectural tectonics and fabrication resulted in a component based system that demonstrated the structural and spatial possibilities which was then assembled as installation by teams of students.
Prior the workshop a 'Porosity pavilion' was installed at Kalaghoda Arts Festival in 2015. The strategy for variable porosity in this Pavilion was an inspiration from nature. This is very evidently seen in many aspects in nature for example the bone, as they have more material at places where required and less where it does not have structural /functional need. 'In nature form is cheap and material is expensive' - J. Vincent, this is why the installation tried to optimise the form reducing the amount of material where is not necessary according to the structural stress analysis.
AAVS BioMorph 2016 was conducted in collaboration with Architectural Association, School of Architecture, London and BNCA College of Architecture in city of Pune, India.
The Digital Department at BNCA is a pioneering effort, a first of its kind in India, to unmold conventional architectural learning models. To foster new design possibilities the department has established a state-of-art Fabrication lab fully equipped with rapid prototyping and computationally numerically controlled machines like the CNC router/miller, 3D printers, laser cutting machines and will soon be equipped with 6-axis Robotic Arm. With this setup, the school joins the league of a handful of universities in South-East Asia to have such facilities. An effort like these not only affects the manufacturing of architectural prototypes but also encourages possibilities of research collaborations within various allied fields and peer groups. Being an Institutional Partner for hosting AA Visiting School Pune is an important step towards achieving it.
Biomorph 2016 looked at investigating the potential of 'Bamboo' as a lightweight structural component. Bamboo is well known and widely used material in Indian context. India is the second largest grower of bamboo in the world. It is known for being strong, lightweight and incredibly affordable. The precedents from nature will guide the material systems as well as inspire geometrical solutions. Each unit will be assigned a specific an example in nature to study and should use the base principles of their example to develop a material system. Their material system was limited to using bamboo and one other material to create a shelter that can with stand the environmental conditions of the monsoon season in Pune.
The academic agenda of the workshop was to develop a material system driven by biomimetic logics and optimising this through the use of specific digital tools. The workshop expanded on the theory of biomimetic and organic evolutions abstracted into innovative design / material solutions. Material explorations were developed using new low tech methodologies, generating dynamic forms and tectonics and fabrication methods related to the specific material. AAVS Biomorph was a 10 day workshop in which the first 3 days were about understanding the background theory of material processes and Biomimicry. The 2nd phase was about group formation, case-studies, physical and digital experimentation. The field work was coordinated within the 10 day workshop to demonstrate core principles in built form within Pune. The aim was to allow students to see physical examples as case studies for workshops agendas as well as exploring the city. The 5th-10th day was design and build days followed by exhibition and distribution of Certificates to the participants which is affiliated with AA School of Architecture. Workshop was a learning experience for students in understanding how precedents from nature can guide the material systems as well as inspire optimised design solutions. Students worked on art of assembling, shaping, and materials in construction.
The workshop was open to current architecture, design, biologists and engineers students, PhD candidates, and young professionals.